Larry Boyce • Bruce Bradbury • Peter Bridgman • Paul Duchscherer • Erik Kramvk • David Modell • Jane Powell • Gail Redman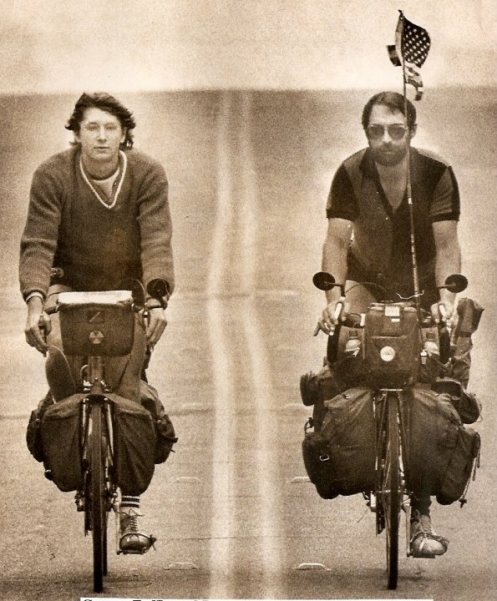 Larry Boyce is a legend in the annals of decorative painting. Like Johnny Appleseed, he traveled the byways of America planting seeds of artistic appreciation wherever he went. He pedaled his worn red bicycle over two hundred thousand miles through the western regions of the U.S., especially the mining towns of Colorado, and offered to paint stenciled ceilings for owners of period homes in exchange for room and board. Arriving in San Francisco in 1973, he started his decorative painting business, Larry Boyce and Associates. Larry and his associates became members of Artistic License within a year of its founding in 1982. While Larry himself was a mercurial individual and not easy to pin down, his associates, including Ken Huse and George Zaffle, became active members of the guild. Larry's artistic talent was of the highest order. His hand-painted ceilings and friezes beautify splendid Victorian residences such as the Brune-Ruetlinger home in San Francisco, as well as the Vice-President's office in Washington, D.C. Larry was well known for his many witticisms and flamboyant personality. His knowledge of Victorian design was vast. He painted until he could work no more, and spent his last days assisting the parishioners of Old First Presbyterian Church in San Francisco in creating a painted ceiling in their church interior. He remained a member of Artistic License until his death from complications of AIDS in 1992.
= = = = = = =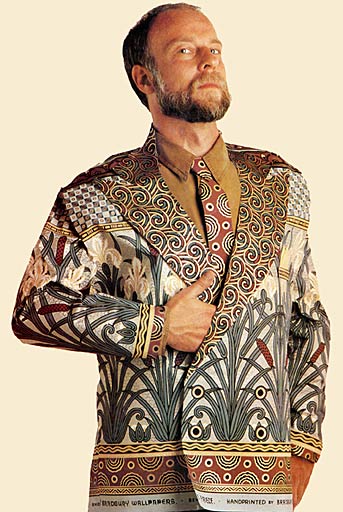 Bruce Bradbury is the founder of Bradbury & Bradbury Art Wallpapers, a small hand printing studio with an international reputation for fine reproductions of wallpapers from the 19th and early 20th centuries. His interest in historic interiors started as a teenager, when he fell under the spell of the English Victorian designer William Morris. After research in England and several years as an apprentice in wallpaper factories, he began redesigning and hand-printing the elaborate wall and ceiling decorations of the Victorian period in a one-man shop in Benicia, California in 1979. He was soon joined by other restoration enthusiasts, and the firm has produced wallpapers for many of the finest public and private restorations in the US, Europe, and Australia. Inspired by the work of other Bay Area craftspeople who share a passion for historic restoration, Bruce was also a founding member of Artistic License. In recognition of his outstanding career, and for his loyalty and service to the Guild, in 2006 the members of Artistic License unanimously elected Bruce Bradbury as their first Hall of Fame member.
= = = = = = =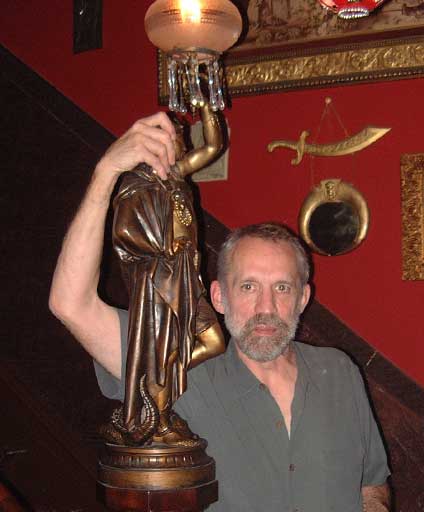 Peter Bridgman was a master wallcovering expert, widely known for his intricate and precise installations of period wallpaper systems such as those designed by Bradbury and Bradbury Art Wallpapers. He installed over four hundred fifty ornamental ceilings that were designed with their hand-printed papers. His work can be seen in homes and commercial buildings all across the country. Photos of Peter's work grace the pages of numerous publications, especially those of his longtime friend, Paul Duchscherer, author of many books about period design. No design was too complicated for Peter to handle. He was an expert at mural installations, being especially appreciated by mural painters for his keen eye and knowledge of art and decor. In his later years he studied art restoration, spending a year in Florence, Italy, to learn new skills and techniques. Peter became a member of Artistic License in 1990 and devoted his abundant energy to guild activities for twenty years until his death from a brain tumor in September, 2010.
= = = = = = =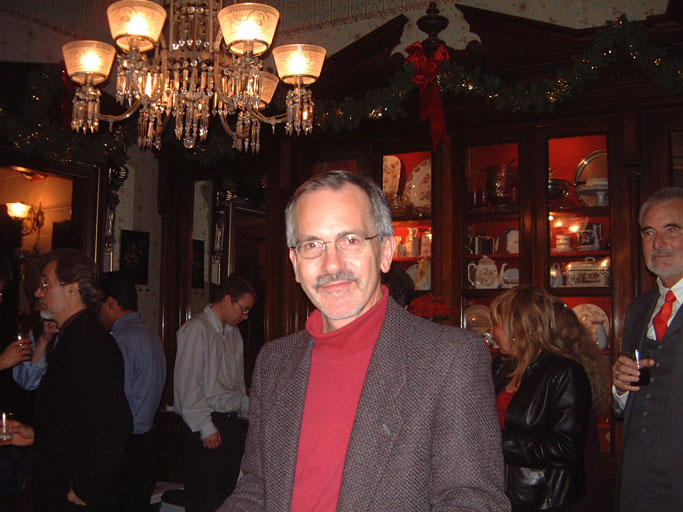 Paul Duchscherer joined Artistic License in 1985 and distinguished himself through the design of historic interiors, magnificent designs using Bradbury & Bradbury Art Wallpapers. A graduate of the Rudolph Schaeffer School of Design, Paul lived and worked in San Francisco for over three decades specializing in period-style projects for historic buildings. A proponent of historic preservation, his professional activities included lecturing, writing, and teaching about historic design. Paul's expertise led to frequent appearances on various television programs, including the PBS series "This Old House," and the HGTV series "Curb Appeal." Paul authored numerous books, including The Bungalow: America's Arts & Crafts Home, Inside the Bungalow: America's Arts & Crafts Interior, and Outside the Bungalow: America's Arts & Crafts Garden. For his luminous career as well as his tireless work in furthering the goals of Artistic License, Paul Duchscherer will be well-remembered, along with his kindness, his beautiful singing voice, and his signature laugh.
= = = = = = =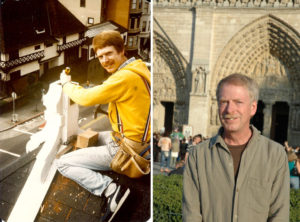 Erik Kramvik grew up in the Midwest where he studied architecture at the University of Minnesota. His love of architectural history soon led him on the first of many trips abroad to explore the world's architectural monuments at first hand. After a long trip around the world in 1978, he returned to San Francisco and started a business restoring facades of ruined Victorians. He soon met other individuals involved in the Victorian Revival movement. In early 1982 he worked with painter Bruce Nelson, colorist Jill Pilaroscia, and plaster maker Keith Tartler on the first collaboration of artisans that would join together later that year to found Artistic License. He soon gave up the carpentry side of business and devoted his skills to designing the restoration and rehabilitation of period buildings, including both local and National Register landmarks. In addition, his love of photography resulted in an enormous collection of images of world architecture that has provided the basis of many lectures about the history of architecture. He has been a member of Artistic License for the past 38 years and a resident of his beloved San Francisco for 48 years.
= = = = = = =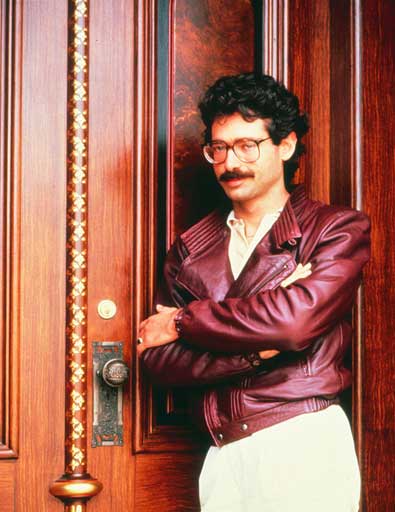 David Modell was born in Sacramento and studied architecture at the University of California in Berkeley. After graduating he went to work for San Francisco Victoriana and, along with Stephen Rynerson, designed accurately detailed facade restorations for Victorian buildings that had lost their ornamentation due to misguided attempts to modernize old buildings in the 1940's and 50's. Victoriana eventually decided to dedicate their business only to the production of moldings and other period ornamentation and closed their design office. David started his own architectural design business and soon found dedicated clients in the burgeoning Victorian Revival that began in the late 1970's. He produced countless designs for both period interiors and exteriors that were characterized by his strong devotion to historical accuracy and inventive use of period details. His knowledge of Victorian architectural history was extensive. His beautiful designs were displayed in many design publications. David became a charter member of Artistic License in 1982 and was an early director of the group. His erudite guidance helped the guild find its identity and establish its goals in the early years of its existence. He remained an active member of the group until his death from complications of AIDS in 1993.
= = = = = = =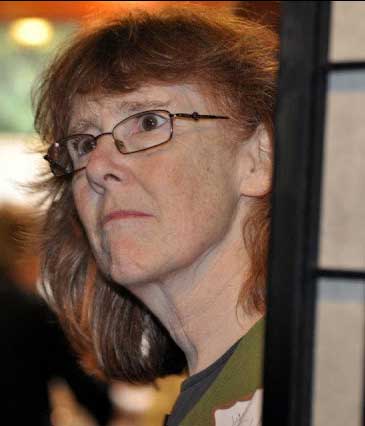 Jane Powell was a restoration consultant, house restorer, lecturer, color consultant and the author of six books and countless articles about design written for trade magazines including Old House Journal, Style 1900, and American Bungalow, as well as, feature articles for the San Francisco Chronicle Magazine. Her books include Bungalow Kitchens, Bungalow Bathrooms, Bungalow Details: Exterior, Bungalow Details: Interior, Bungalow: The Ultimate Arts and Crafts Home, and Linoleum. She was a popular and entertaining speaker who lectured at The Grove Park Arts and Crafts Conference, Pasadena's Craftsman Weekend, and many others. Due to her quick wit and the ability to make puns about almost anything, she was labeled the "Bad Girl of Bungalow Writing." As a hands-on restorer she brought ten vintage homes back to life with the kind of knowledge that can be gained only from practical experience. She was uniquely qualified to help her clients avoid the pitfalls that come with the restoration of older homes. Jane dedicated her last years to the restoration of her beloved "Bungamansion," the 1905 Jesse Matteson house in Oakland, California. Jane Powell joined Artistic License at the beginning of the new millennium and served as one of its more entertaining directors. She was active in the group throughout her valiant struggle with cancer until her death in 2012.
= = = = = = =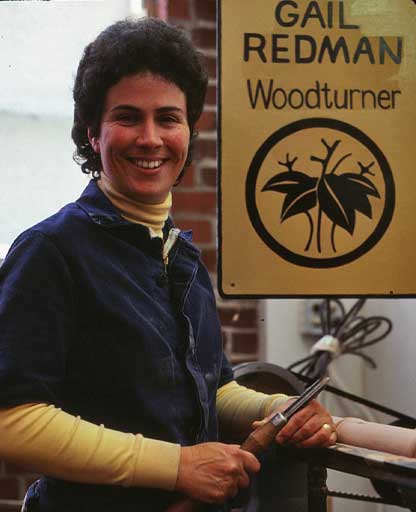 Gail Redman was born in Los Angeles and graduated from UC Davis with a degree in botany. She was an independent, adventurous spirit who traveled the world at an early age and ventured to places that few women would ever visit on their own. She visited over 100 countries and developed passions for world music, crafts, and ethnic cultures. These experiences propelled her into a life that few would have predicted. In 1974, she spent time in New Zealand and apprenticed herself to a European master woodturner. She learned the intricate art of woodturning, an uncommon choice for a woman, and became one of the country's most accomplished woodturners. She opened a shop in San Francisco in the late 1970's, just as the Victorian Revival was getting underway, and soon found her services in great demand. She met other artisans involved in the restoration of San Francisco Victorians and became one of the charter members of Artistic License. Gail produced many thousands of fine woodturnings that adorn countless period buildings in the Bay Area and beyond. Her work has been shown in many museums and specialty trade publications. She remained true to her craft to the end of her life and was an active and well-loved member of Artistic License until her death from breast cancer in May, 2000.
= = = = = = =